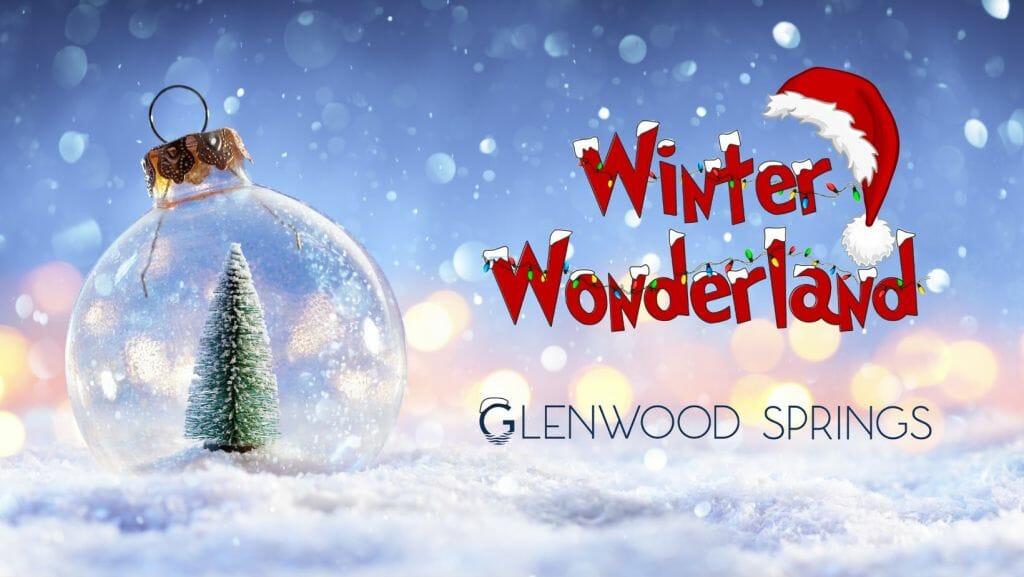 Winter Wonderland is a community celebration that will take place throughout the holiday season from the day after Thanksgiving to New Year's Day in Glenwood Springs, CO.  The celebration includes dazzling light displays, decorations at homes and businesses and a series of large and small events throughout town!
Winter Wonderland officially kicks off the Friday after Thanksgiving with the Hotel Colorado's 33rd Annual Lighting Ceremony featuring the highly anticipated spectacular fireworks show, live entertainment, and a visit from St. Nick.  The Winter Wonderland celebration concludes by ringing in the New Year with many New Year's Eve Celebrations throughout town. 
Local businesses provide an experience that simply cannot be found in an online shopping cart. Glenwood Springs is a regional shopping hub.  For the best shopping around, you will find independent small businesses as well as well-known national retailers throughout Glenwood Springs. Tag your shopping experience #ShopGlenwood. 
To keep up with all the fun and festivities, you'll need your energy. Your taste buds will delight in Glenwood's vibrant dining scene. From casual fare to fine dining, there is something for everyone.  #DineGlenwood

More than ever, let's unite our community around what can happen when we shop local, eat local and support local. 
#ShopGlenwood #DineGlenwood #LoveGlenwoodSprings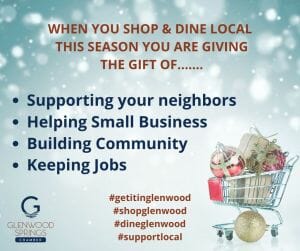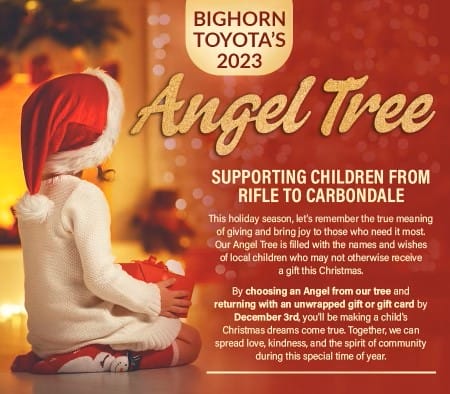 Opportunities to Donate Cont.
Holiday Toy Drives
Coldwell Banker Mason Morse | 1614 Grand Ave A
Accepting new and unwrapped toys & books.
Collecting until December 8

Cooper Wine & Spirits | 732 Cooper Ave
Accepting unwrapped new toys.
10 a.m-9 p.m.
Edward Jones - Hollis Kelly | 2700 Gilstrap Ct Ste 230
Accepting unwrapped new toys.
8:30 a.m.-4:30 p.m.
Collecting until December 8
Holy Cross Energy | 3799 Hwy 82
Accepting unwrapped new toys, gifts for teens (journals, hair/makeup products, gaming accessories) and gifts for seniors (toiletry products and books.)
9 a.m.-5 p.m.
Collecting until December 7
Hotel Colorado | 526 Pine St
Accepting unwrapped new toys.
Collecting November 15-December 16
Gift Wrapping with Legacy Dance Co
Visitor Center | 802 Grand Ave
11 a.m.-2 p.m.
Gift Wrapping with Legacy Dance Co
Ulta Beauty | 135 E Meadows Dr
11:30 a.m.-3 p.m.
Opportunities to Volunteer
Salvation Army Kettle Bell Ringer
Please contact Cheryl at 916-214-5639
GWS City Market | 1410 Grand Ave
Ringing until December 31
Winter Wonderland Calendar of Events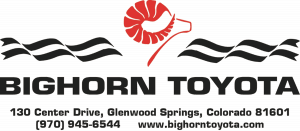 This list is updated regularly.  Events listed by time.
Elf on a Shelf
Glenwood Toys & Gifts | 801 Grand Ave
10 a.m.-5:30 p.m.
Toy Alteration Workshop for Adults
Give your toys an extreme makeover for the holidays!
Must Register
GWS Community Center | 100 Wulfsohn Rd
5:30-8:00 p.m.
Looking for a last minute gift?!  Support local business while lifting up a friend or family with the gift that keeps on giving...Glenwood Gold!
Santa Visits Bighorn Toyota!
With tasty treats and a hot cocoa bar!
Brought to you by Kimmie Rauman Realty & Bighorn Toyota
Bighorn Toyota | 130 Center Dr
4-7 p.m.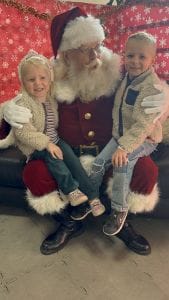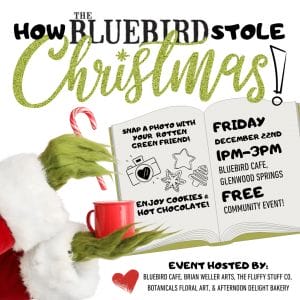 MERRY CHRISTMAS!
Hotel Colorado
Call for Reservations 970-928-3785
526 Pine St.
2-8 p.m.
Vaudeville Holiday Show
Glenwood Vaudeville Revue | 915 Grand Ave
Doors open at 6 p.m.
Skate with Santa
Donations to support Grizzly Youth Hockey!
GWS Community Center | 100 Wulfsohn Rd
7:30-9:00 p.m.
HAPPY NEW YEAR!!
Live Music with Wild Flight
Glenwood Caverns Adventure Park | 51000 Two Rivers Plaza Rd
5-8 p.m.
"Reading in a Winter Wonderland"
Winter Reading Challenge for adults
Glenwood Springs Branch Library | 815 Cooper
January 15-February 29