Shopping small has always been a wonderful way to support Glenwood Springs' community. There are plenty of reasons to frequent local shops but now more than ever, shopping in Glenwood Springs is a golden investment in our community. Glenwood Gold Community Currency is our year-round "buy local" program. The certificate can be used at any participating business in Glenwood Springs. They are great for gifts or employee rewards!.
Purchase Glenwood Gold
Purchase Glenwood Gold on this page and use it at any participating Glenwood Springs business.  You can also order Glenwood Gold by calling the GSCRA at 970-945-6589. This is recommended for larger purchases.
Participating Businesses
Find Out what Glenwood Springs Businesses accept Glenwood Gold.
Start Accepting Glenwood Gold
Sign your business up to accept Glenwood Gold at the button below. Email angie@glenwoodchamber.com for the sign-up code. There are no upfront costs or special software/credit card machines to purchase. This program is open only to Glenwood Springs businesses.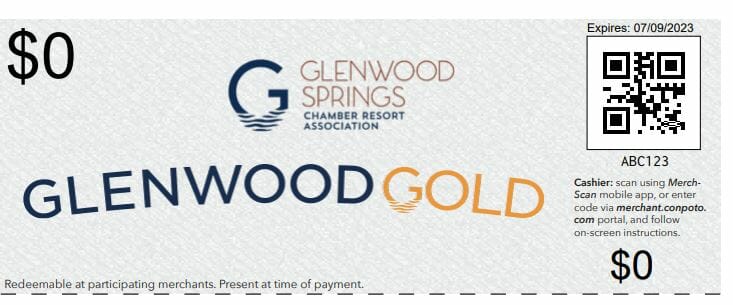 Frequently Asked Questions
What is Glenwood Gold Community Currency?
Glenwood Gold Community Currency can be purchased on this page can be used ONLY at participating businesses in Glenwood Springs.
---
What businesses can accept Glenwood Gold
During this difficult time due to COVID-19, we are opening this program to all Glenwood Springs businesses, both chamber members and future members, through the end of 2020. However, your business does need to sign up for the program.
---
How does my business receive payment for certificates redeemed?
The program will reimburse participating businesses 100% face value of the currency! The Glenwood Springs Chamber Resort Association will send payment to participating businesses by ACH within two weeks of certificates' redemption. Businesses do not need to request payment, as the system will track when certificates are redeemed.
---
How do I use Glenwood Gold?
Please print your certificate or present on your mobile device to spend at ONE of the participating businesses. Merchants may give cash back or issue store credit for unused portion. Some businesses may limit the dollar amount used on a specific transaction, see individual store for details.
---
What if I want to purchase large quantities of Glenwood Gold?
The Glenwood Springs Chamber Resort Association staff is happy to help you with your employee gifting program or other promotion. Just give us a call at 945-6589 and we can help you.