Family Fest offers entertainment throughout the weekend. Kids and adults alike will enjoy multiple art projects, face painting, Salida Circus, Rocky Mountain Mini Train, Walk on Water, AX'D Babe and more!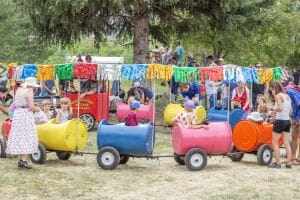 The Rocky Mountain Mini Train has been a tradition at the Strawberry Days for many years now. Its the best mini train ride for kids of all ages. Ideal for festivals, birthday parties, church or school events. Make some memories and ride the train!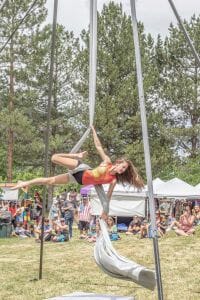 Salida Circus is the most unique circus troupe this side of the Mason Dixon and since 2007 has brought world class circus entertainment to festivals, fairs, corporate events, private parties and parades throughout Colorado, New Mexico, California, the United Kingdom, the Middle East and Ireland....whether it's with world class aerialists, 10 foot tall stilt walkers, Saucy snake charmers, national juggling champions or American Ninja Warrior acrobats!
The Glenwood Springs Community Art Center (CAC) is a vibrant, people-centric space dedicated to enriching lives through unlimited access to the visual and performing arts, exhibitions, and recreational activities.
Mountain View Church exists to bring glory to God by making disciples through the gospel of Jesus Christ, locally and globally. They seek to live the gospel in the Roaring Fork Valley through pursuing the following aims: Celebrate, Connect and Invest.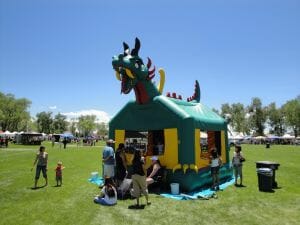 Vertical Amusements - Bounce House, Quad Bungee, Walk on Water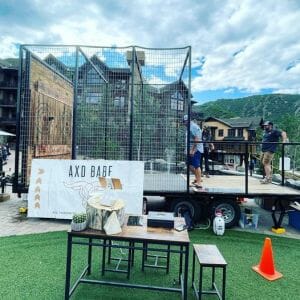 AX'D Babe is a local AX throwing company in the Roaring Fork Valley! Step up and try to throw at the target! Fun for all!
Saturday, June 17:
11:00 a.m. - 1 p.m./ Mountain View Church Art Project
11:30 a.m./ Salida Circus Performance
1:30 p.m./ Caricatures with Glenwood Springs Art
2 p.m./ Salida Circus Performance
4:30 p.m./ Salida Circus Performance
Sunday, June 18:
11 a.m./ Salida Circus Performance
1:30 p.m./ Salida Circus Performance
2 p.m./ Kiwanis Ball Race
3 p.m./ Salida Circus Performance
General Family Fest Hours
Friday- 4-8 pm
Saturday -10 am – 8 pm
Sunday- 10 am – 4 pm