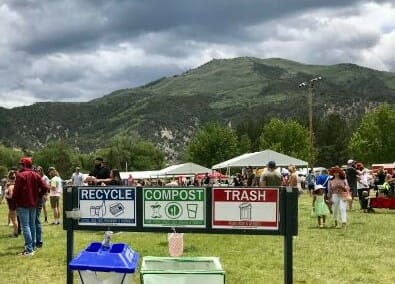 Strawberry Days has been striving to be a zero waste event since 2011.
COMPOSTING & RECYCLING are the next best personal steps at Strawberry Days. Please be part of the solution, not the problem, by assisting EverGreen ZeroWaste with proper sorting at waste stations!
Sort your waste in the well-marked containers at our waste stations where you will find friendly volunteers. Just anything you purchase from a food vendor goes in the green compost bins. All food scraps, utensils, plates, bowls, cups, and paper products are compostable.
ALL beer cups are COMPOSTABLE!
Drinking Water & Refilling Stations
We are thrilled to be offering water refilling stations! Bring your reusable water bottles OR purchase a Strawberry Days reusable bottle at the information tent at the east entrance of Two Rivers Park! Both refilling stations will be located near the food court. Please see the map at the festival for exact locations!
2022 Festival Resources Impact
2022 Event Recovered:
36,947 pounds of materials through recycling & composting
73% of all total discards!
2022 Event Saved:
248 Gallons of gasoline in energy savings
44,548 pounds of greenhouse gas emissions
2022 Event Avoided:
54 pounds of air pollution
42 pounds of water pollution
40 pounds of toxic herbicides that threaten plants, wildlife, humans and our food systems.
7,480 pounds of substances that threaten human health, including carcinogens, particulate matter and volatile organic compounds