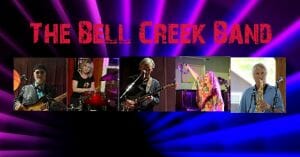 Thursday Night Music - Strawberry Days Kick Off
We are kicking off Strawberry Days Thursday evening, June 16th with live music downtown in Bethel Plaza, Under the Bridge. The Bell Creek Band will be playing from 6:30 - 8:30 p.m.
The Bell Creek Band is western Colorado's premier variety cover band, The 5-piece show has both female and male vocals that is rich with harmonies and the bonus of a great brass horn section. We perform a variety of genres allowing us to cover many hit songs including classic rock, country music, rhythm and blues music and Latino selections. We are based out of Colorado's North Fork Valley with shows being presented throughout western Colorado. The lineup has George Hubert Lawhorn, Lenore Cambria, Jason Cook, Ellen Hutto and Tony Peters. This is a great feel good, sing along show that you won't want to miss.
The Glenwood Springs Rotary Club - Pie Day
The annual Strawberry Days celebration is back. Last year, Glenwood Rotary met the goal of raising $10,000 for local scholarships.  Those awards were recently presented to this year's senior students.
Thursday, June 17
8 - 11:30 a.m.
First United Methodist Church
824 Cooper Ave.
Glenwood Springs, CO
FREE Strawberries and Ice Cream
Strawberries and Ice Cream brought to you by Renew Senior Living.  Served up by Kiwanis, Saturday, at Two Rivers Park, in front of the bandshell from 11 am-2pm or until out of product.
Saturday, June 18
11 a.m.- 2 p.m.
*OR until out of product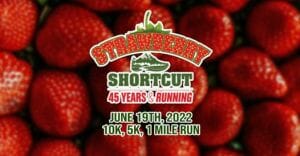 The 45th annual Strawberry Shortcut is sure to bring out some highly competitive racers as in years past. Healthy competition coupled with a family-friendly race to support a great cause makes for a fun event for all. New this year- the race will start and end under the Grand Avenue Bridge. There will be a beer tent and live entertainment for all! A 5K, 10K and 1-Mile Run supporting Special Olympics Colorado. Online registration ends Thursday, June 16 at midnight!
Sunday, June 19th, race times:
10K Race- 7:30AM
Bob Willey 5K Race - 9:00AM
Nancy Reinisch 1-Mile Race - 10:00AM
18th Annual Kiwanis Ball Race
Get your tickets today for the 18th Annual Kiwanis Ball Race. $2000 First Prize, $5 per ball, or $10 for 5 balls. Proceeds benefit Community Players throughout Glenwood Springs.
Sunday, June 19th
1 p.m.
Two Rivers Park
Plans For New Youth Scholarship & Leadership Program In The Works
The Glenwood Springs Chamber Resort Association is delighted to announce the return of Strawberry Days after a two-year hiatus.  During this time, the GSCRA was able to reflect on the goals and purposes of all of the chamber's events, including Strawberry Days.  Recently, the Chamber's board of directors unanimously endorsed a plan to end the "Miss Strawberry Days" event and, in 2023, replace it with a more modern competition that symbolizes the values of leadership, excellence, and community service among all young people in Glenwood Springs.  We commemorate Glenwood's past and eagerly anticipate its very bright future.  Over the next year, the GSCRA Board will develop a new, modern scholarship program that will inclusively and appropriately celebrate the great diversity of young people in the community. More information to be shared in the coming months.