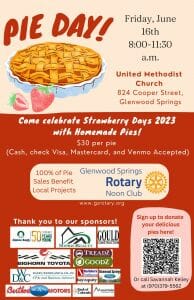 The Glenwood Springs Rotary Club 
Pie Day
The annual Strawberry Days celebration is back. Last year, Glenwood Rotary met the goal of raising $10,000 for local scholarships.  Those awards were recently presented to this year's senior students.
Friday, June 16
8 - 11:30 a.m.
First United Methodist Church
824 Cooper Ave.
Glenwood Springs, CO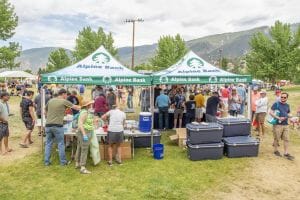 FREE Strawberries and Ice Cream
Strawberries and Ice Cream!!  Served up by Kiwanis, Saturday June 17, at Two Rivers Park, in front of the bandshell from 11 am-2pm or until out of product.
Saturday, June 17
11 a.m.- 2 p.m.
*OR until out of product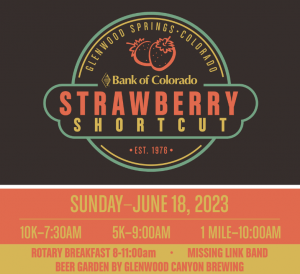 The 2023 Strawberry Shortcut will be held during this year's Strawberry Days on 
Sunday, June 18th, 2023!
The Strawberry Shortcut offers a 10K, 5K, and 1 Mile Run. The race welcomes participants ranging from competitive runners, to those just looking to try something new. The Shortcut is a long-standing Glenwood Springs tradition and a great way to get active in the fresh mountain air. There are cash prizes awarded to 1st, 2nd, and 3rd places for men's and women's overall winners for each race.
Sunday, June 18th, race times:
10K Race- 7:30AM
Willey Coyote 5K Race - 9:00AM
Nancy Reinisch 1-Mile Race - 10:00AM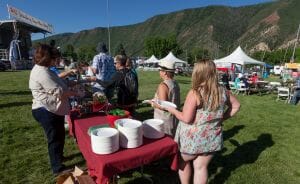 The Glenwood Springs Rotary Club -  Pancake Breakfast 
A Strawberry Days favorite is back! Join the Glenwood Springs Rotary for their Pancake Breakfast! Serving up some delicious breakfast foods the Sunday of Strawberry Days weekend!
Sunday, June 18th
8 - 11 a.m.
7th Street East of Bridge (Serving Beside Riviera Supper Club)
$10 per ticket or sponsorship tickets are $100 for 12 tickets.
Contact Cristina Gair at 970-618-9723 or cristinagair@gmail.com to purchase your tickets or sponsor the event!
Tickets can also be purchased day of!