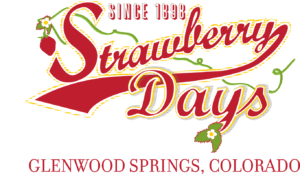 Glenwood Springs' Annual Strawberry Days
The event, typically held the third full weekend of June, will  take place June 17-19, 2022.
Strawberry Days is one of the longest-running celebrations west of the Mississippi. The festival features fine arts and crafts from over 100 artists, exhibiting unique hand-made art of varying mediums including ceramics, woodwork, jewelry, painting and more.  Along with arts and crafts, this family-friendly festival offers up a weekend of entertainment with live music, a FamilyFest, a delicious food court, the crowning of Miss Strawberry Days and more.   The traditional parade on Saturday morning down Grand Ave leads to the park where free strawberries and ice cream served.  Save the date to participate in the amazing experience that is Strawberry Days June 17-19, 2022.
Arts and crafts and food vendor applications will be available in Fall 2021.  For more information, contact Tara Harman at 970-945-6589 or tara@glenwoodchamber.com.
Strawberry Days is a 123-year tradition in the community.  The event signals the official start of summer, bringing people together from far and wide.