Small Business Saturday is November 27, 2021
Whether you are a small business owner or a consumer, please join us and shop small to support small business all year long!
Small Business Saturday Shopping Kick Off Event
The community is invited to stop by the Glenwood Springs Visitor Center at 802 Grand Ave. on Saturday any time between 10 a.m. and 2 p.m. to enjoy holiday treats. Pick up a Small Business Saturday shopping bag with a listing of Small Business Saturday happenings and other SWAG. Five random shopping bags will be filled with $100 in Glenwood Gold!
To view the benefits of shopping small year-round click here!
Check out these Small Business Saturday deals offered by our LOCAL Glenwood Springs businesses below.
Businesses - please submit your Small Business Saturday so we can help sprad the word!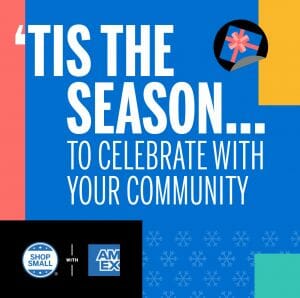 Small Business Saturday (AND All Season Long) Happenings & Specials
Book Grove
801 Blake Ave. | 970-384-0992
20% off everything! Gifts for all ages! Black Friday - 12-5 p.m.; Small Business Saturday - 12-5 p.m. and Savings Sunday - 12-4 p.m.
Cooper Wine and Spirits
732 Cooper Ave. | 970-945-1470
Stop by the store for Small Business Saturday specials!  Wine tasting and sale December 3, 4 and 18. Mix and match 6 bottles - save 10%; 12 bottles - save 20%.
Crystal Tuning
819 Grand Ave. | 970-230-9684
Black Friday and Small Business Saturday sale, lemonade and cookies!  Lots of new special items in stock EXCLUSIVELY for the holidays!
Fine Things Jewelry & Collectables
309 8th St. | 970-945-5222
Fine Things Jewelry will be looking festive with decorations and will be transformed into Santa's workshop full of gorgeous fine jewelry. Enjoy handpicked favorites from Black Friday to Christmas Eve! Come into tell us what's on your Holiday Wish List. When your secret Santa stops into the store they will know exactly what to select as the perfect gift. As always there will be free gift wrapping! Shop early for best selection!
Glenwood Springs Community Center
100 Wulfsohn Rd. | 970-384-6301
Give the gift of health, fitness, and fun this holiday season! Gift Certificates available for the Glenwood Springs Community Center - personalize to anyone in your life!
Homsted
713 Cooper Ave. | 970-928-3440
D.I.Y Holiday Gift Making Workshop on 12/3 7:30-9pm and Holiday Herbal Drinks: cocktails, mocktails and drinks for the holiday season. This will be on 12/18 7:30-9pm. Registration and info can be found on our website.
Revolution Power Yoga
10 Market St. | 970-930-6596
BLACK FRIDAY SALES AT REVOLUTION ARE HEATING UP! From Friday, November 26th through Monday, November 29th, give yourself or someone you love the gift of yoga via $25 off a 10-punch pass AND $100 off 6-month & 1-year memberships.
The Silver Bead and Yarn Shop
927 Grand Ave. | 970-945-5663
Stop by to see the "Snomes" (Snow Gnomes) and Christmas Bees! Holiday open house on December 10 and 11 with holiday treats, discounts and giveaways.

TreadZ
812 Grand Ave. | 970-928-0620
Stop by to see the Christmas Village and grab a candy cane! Get ready for the 12-Days of Christmas Sale beginning on December 1!