HEALTH AND WELLNESS PROGRAMS
Health Solutions by Mountain Family Health Centers
Health Solutions is an annual membership program offering an affordable, fully integrated, comprehensive approach to health and wellness for your employees in one health care home.
Healthy employees are critical to an organization's ability to achieve its goals. Health Solutions offers basic primary care at a relatively low cost serving as an alternative to the extremely high cost of health care, increasing deductibles and large co-pays.
United Networks of America Prescription Drug Card
This program is being provided to you and your family to help lower your prescription drug costs. Simply create and print your FREE Prescription Drug Coupon Card below and receive savings of up to 80% (discounts average roughly 30%) at more than 68,000 national and regional pharmacies. This coupon card can be used for potential savings on prescription medications not covered by your insurance. This coupon card is pre-activated and can be used immediately!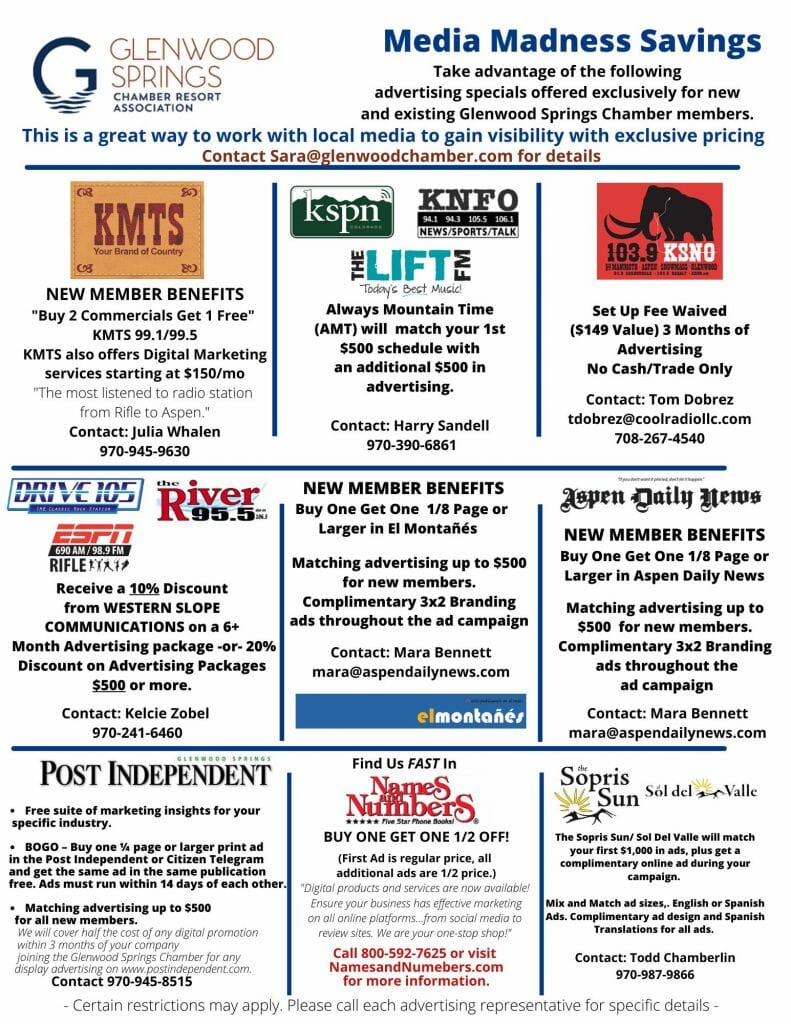 As a benefit of membership, Chamber members can receive significant savings of up to 60% off a list of 175 most commonly purchased items.  Most other items are discounted at least 5% over everyday low web price. In addition to your special pricing you can receive free next business day delivery on qualifying orders of $50 or more.
Click HERE for program information and to sign up!
Chamber members receive a discount on RFTA Zone Passes.  The RFTA Zone Pass is a heavily discounted alternative to cash, stored value card (SVC) or monthly passes. It is issued according to where the passenger lives, and the available zones include: Aspen Village, Basalt, El Jebel, Carbondale, Glenwood Springs and New Castle.   For more information please contact passorders@rfta.com.
RFTA's highly discounted Spring/Summer/Fall Seasonal Zone Passes are on sale for businesses and individuals. The 2023 Spring/Summer/Fall Seasonal Zone Passes (Click here) are valid from May 1, 2023 through November 30, 2023. The prices have not changed from the prior winter season. Chamber members are eligible for a 5% discount.
REMINDER: Orders must be picked up in full, not individually, with proof of payment. Companies placing orders must have a representative pick up their entire orders and distribute the passes to their employees directly. RFTA is not liable for distribution to individual employees for an organization. For example, if a company orders 20 passes, then RFTA will release the full order (all 20 passes) to an authorized representative of the company, who in turn, will distribute each pass to their employees.  If an individual employee who wishes to pick up his/her own pass directly from RFTA that was included in the company's order for 20 passes, then that individual will be denied.
CONSTANT CONTACT CHAMBER PROGRAM
Get more for your business with Constant Contact! As a chamber member, you can get some of the biggest discounts on Constant Contact's email marketing to help you stay in touch with your customers.
Get 20% off for six months when you pre-pay
Get 25% off for a year when you pre-pay (it's like getting three months FREE)
Click HERE to learn more or to sign up for the program.
Employers Council is pleased to offer a special membership to small employers who are members of the Glenwood Springs Chamber Resort Association.  Employers with ten employees or less receive a 49% discount on annual membership. Standard Employers Council membership for small employers…$1,250. Employers Council membership for small employers… only $675. Membership includes ten hours of hands-on professional consultation. To join, call 800.884.1328. Click here to learn more.