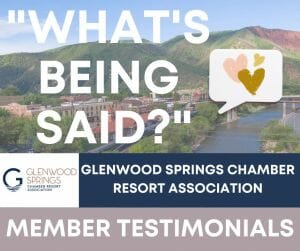 What Do Our Members Have To Say?
"Being a Chamber Ambassador is hands down my most fun volunteer opportunity!  You get inside scoop of all the new businesses in town, you get to hang out with other fun Ambassadors and you get to play with giant scissors!  What more could you want?!" – Dean Kinkel, Alpine Bank
As a long standing member of the Glenwood Springs Chamber, I have nothing but positive experiences.  The Chamber has stepped up to the plate and have helped with our shortage of service worker housing. They continue to go above and beyond to help our local community and businesses. - Matt Spidell, Jimmy Johns
The Glenwood Chamber has been a great place to meet people and to make connections in the community. Adam Decker encouraged me to join when I first moved to town last summer. Because of that recommendation, I met my financial advisor, found a support group of fellow Veterans, and started teaching classes through Junior Achievement. As a mortgage advisor, I've also been able to build relationships with several real estate professionals in the area. The Chamber has been pivotal in helping me to build my business and to feel like a part of the Glenwood Community. – Jason Marshall, Arbor Financial
The GWS Chamber has been SUCH a huge supporter of our team at Hotel Colorado! Over the years, they have collaborated with us on many events and have been a vital resource for networking, marketing & promotion, and advocating for our business to succeed within our community. We're so thankful for our growing relationship with this great group of people! – Kristen Keefer, Hotel Colorado
GSCRA has helped us in so many ways!  We have been long time members and have seen benefits firsthand!  The support from GSCRA has ranged from navigating a pandemic, staying informed on business trends, business advocacy, to pivoting marketing campaigns based on I-70 closures.  Thank you for all you have done to help us over the years and the hard work you continue to set forth to set us up for success for years to come – Eric Brotherson, Glenwood Caverns Adventure Park
As one of the longest term members of the Chamber Ambassadors I can attest that it has been one of the most valuable experiences I could have in the community.   Being in Real Estate it is important that I know what is happening in my community and through welcoming New businesses and attending the local events, it allows me to sometimes get the inside scoop on what is happening in our community.  I really enjoy spending time with other leaders who really care about our town.  I'm going for most "seasoned" Ambassador record.  That should Say it all. – Becky Ciani, Coldwell Banker Mason Morse 
I love being a Chamber Ambassador because of the exciting ribbon cutting ceremonies, the connections made with other business owners and the opportunity to help them grow through referrals. Our valley is full of wonderful businesses and this is a great way to become involved and have fun! – Adam Decker, Adam Decker State Farm
We joined the chamber at the end of 2022 and have felt welcomed and supported since our initial membership confirmation via email. Our ribbon cutting was impressive. We were blown away by the volunteers that showed up to make this a memorable day, despite the frigid weather. We value your promptness with ours inquiries and appreciate how you have helped us integrate with the GWS community by creating co-sponsorship opportunities. We really enjoy attending the BAH events and always enjoy learning more about other businesses' in our community through these fun events. These events have created friendships and great networking opportunities for us. We look forward to being more involved in the upcoming events and are eager to share our logo wear/promo products/services with other businesses. Supporting local businesses is something we are passionate about. – Jules King, Valley Lidz
Community is what drives us in what we do and in the business decisions we make. As small business owners entering the community, our first connection for local engagement was through the Glenwood Springs Chamber Resort Association (GSCRA). Our membership has provided an opportunity to connect with other business owners and stakeholders. Growing our network roots our presence as local business partners and strengthens our commitment to positively engage our community in meaningful ways. During times of adversity, the GSCRA has been a platform for sharing supportive resources to help our operation navigate uncertainty with confidence. I encourage anyone establishing a small business in the community to get connected and engage with the GSCRA to enhance visibility and grow valuable relationships. -  Heather Montross-Cowan, Defiance Rafting Company. 
As an activity and adventure company that was established in Glenwood Springs nearly 50 years ago, I am proud to say that our organization has been a long standing member of the Glenwood Springs Chamber Resort Association. Over these years we have seen firsthand how valuable their support and guidance can be. From helping us navigate the challenges of the pandemic to staying up-to-date on business trends and advocating for our communities best interests, GSCRA has been a true partner in our success. More recently, their dedication to keeping us informed and prepared has been especially critical in times of crisis, such as when the Grizzly Creek Fire and the subsequent closures of I-70 cause significant challenges.  During these events they stepped up and took the lead on pivoting our marketing campaigns, allowing us to recover and rebound more effectively. GSCRA's resources and expertise have been indispensable in these moments, and we are grateful for all they have done to help us weather the storm. We know that we can count on GSCRA to continue providing us with the support and resources we need to thrive in the years to come. Thank you, GSCRA, for your hard work and dedication, as it has directly contributed to our success and longevity." – Patrick Drake, Blue Sky Rafting
Being a chamber ambassador is not only a very fulling experience but the best way to get to know our community on a personal level. We are truly a close-knit community and being an ambassador is such a great way to feel even more embedded in this amazing place we all call home. I highly recommend being a part of this amazing group. – Danielle Campbell, City of Glenwood Springs, Economic Development
The Glenwood Springs Chamber Resort Association has been a great partner over the years.  One of the programs that they established in 2020 was the Glenwood Gold currency program.  This was a great avenue to help promote shopping locally to support the participating businesses here in Glenwood Springs during Covid.  Alpine Bank was able to help out by giving away $25,000 in Glenwood Gold during June and July of 2020 (with the help of KMTS) to different local community members who were nominated by their neighbors and friends for their acts of service, support and encouragement.  In all, 250 community members were selected to receive $100 in Glenwood Gold through Alpine Bank's "Grateful for Glenwood" campaign.  Alpine Bank continues to use Glenwood Gold as part of our employee appreciation efforts.  – John Stelzriede, Alpine Bank