Alineación del escenario principal
Thank You To Our Sponsors:
4:30-5:30p        Cody Jeffryes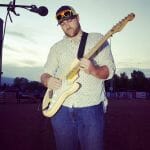 Cody Jeffryes
Born and raised in the Roaring Fork Valley, Cody has been writing and performing his original music throughout CO for the past 15 years. He has a soulful 70's sound with a modern country rock twist. The music he has recorded pales in comparison to his live performances. A must see live show!
6-7:30p             Highway 82 Band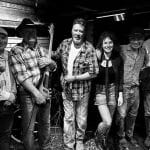 Highway 82 Band
Western Colorado's Highway 82, formed in the Roaring Fork Valley in 2018, plays an eclectic blend of Classic Country, Country Rock, and Originals.
Jeff Pogliano (Acoustic guitar, vocals),is an Aspen native, Ski Pro, Realtor, and has played music up and down the RF Valley for most of his life. Jesse Graber (Bass, vocals), is also the creator of Tincup Whiskey Dan Rosenthal (Drums, vocals), is a songwriter and ski pro. He also plays guitar and sings in a duo with his wife, Pam. Eric Gross (keyboards vocals), and Frank Martin ( electric guitar, lap steel), are both considered to be among the top soloists in Western Colorado. Eric is also a member of the band 'Wild Flight', and Frank's songwriting is legendary in the valley. Carly Rosenthal (Flute, vocals), has been performing in the RF Valley since 5th grade. Originally playing with the No Joes, she recently graduated from Tufts and she's been working as a marble, metal, and painting artist in western Colorado.
Hwy 82 will get you back in touch with your western roots,( even if don't have any)!  Toe tappin', 2 steppin', and good fun will be had by all!
8-10p                Funkiphino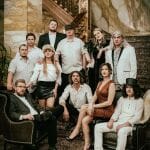 Funkiphino
Colorado's Funk Sensation, Funkiphino (pronounced "Funk-If-I-Know"), is known for their sharp, edgy mash-ups with more than a hint of funk. The award winning band's roots are unexpectedly clever with plenty of dirty-grit to charm the most discerning listeners. Funkiphino pays homage to an array of musical genres by fusing heavy horn-laden music motifs from the past and today with inspiration from old skool funk playgrounds, adolescent rock rebellion, and R&B soul.
12-3p         101st Army Band
The 101st Army Band
The 101st Army Band, a unit of the Colorado Army National Guard that is now in its 80th year, consists of 22 citizen-soldiers whose occupations range from student to teacher and computer programmer to waiter. The Band members attend from as far away as Montrose and Greeley, Colorado to train intensively every month in Aurora. The mission of the 101st is to provide ceremonial music and musical entertainment on behalf of the State of Colorado and the United States Army. Colorado's only Army band, the 101st features a variety of patriotic, jazz, popular, country, classical, rock, and dixieland music, performed by different musical performance teams.
3 - 3:30p
Line Dancing Lesson with Rachael DeGraffenried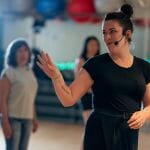 Rachael DeGraffenried fell in love with line-dancing in Laramie, Wyoming where she attended the University of Wyoming. Since then she has danced all over Denver, and currently teaches classes at the Glenwood Springs Community Center and at Native Son (last Friday of the month). Her favorite dance is Footloose! She lives in New Castle with her husband, two daughters, and mini labradoodle, Birdie.
3:30-4:30p
Dustin Elliot & The Broken Radio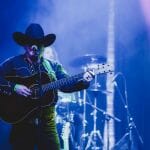 Dustin Elliot & The Broken Radio
Dustin Elliott and The Broken Radio are influenced by greats such as Waylon, Hank, and Del Reeves just as much as by the modern sounds of Sturgill, Hank 3, and Charley Crockett, all seen through the eyes of a one-time kid playing punk rock. "Punk rock and the outsiders of country music have always been strange bedfellows. They pave their own way and follow their own path. Our main goal as a band is to carry on that independent spirit and  classic tradition of Country & Western music. Seeing hard working people forget the work week and dance the night away is success in our book. Elliott is currently working on his debut album, Nickels & Dimes set for release in the Summer of '23.
5 - 6p      The Know Bodies Band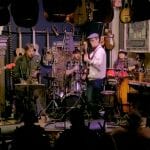 The Know Bodies Band
The Know Bodies Band is about music and dancing and fearless love of dirty old humanity. Grit makes a pearl. A hi hat makes a hip shake. When working class people make music it is this raucous communion. The Know Bodies tip their hats to soulsters of yesteryear, ska looters and shooters, punk rockers, African jazzmen, Celtic bards and rock rolling surfer B-movers and shakers. When asked about their musical influences they simply say.. « Yes, we are under the influence.  J.T. rips bluesy Hammond/ piano riffs, Innocent Joe injects the hat snare kickdrum dance imperative, Jessie the authentic, time served in Africa percussion, Curtis Holland brings the classy horns and flute, Travis the essential guitar earthquakes and Ryan uses world weary bitterness and triumph and laughter and love to fashion tragicomedy verse. You made us…so now you have to join us.
6:30 - 7:30p         Echo Monday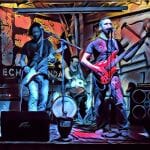 Echo Monday
Echo Monday is a Roaring Fork Valley based three piece power trio that plays rock/alternative music ranging from the 70's to modern with a heavy 90's flavor, covering songs from the likes of Weezer, Sublime, Blink-182, The Clash, Billy Idol, Kings of Leon, The Black Crowes, Nirvana, and more!
8:00-10:00p  Ponder the Albatross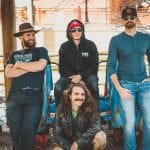 Ponder the Albatross
Somewhere in the eternal vastness of space and time, somewhere upon a westward wind, there is a point where Gypsy Punk, Jam Band, and New Grass collide with cosmic force. That point is Ponder the Albatross.
The "Ponder Phenomenon" is given its drive and force by Josh Bower's ecstatic mandolin, guitar and vocals, Luke Lindholm's searing fiddle; ably abetted by Eric Vrtis' whisking wave of bass & vocals, and Adam Chiszar's symphonic symmetry on the drums.
Every song, every show, every performance, is masterfully executed with the frenetic abandon of a Dervish whirling in a swirling mystical haze that impels audiences to engage and become active participants in the shared experience.
8:45-9p  SolFire Entertainment
(Happening During Break of Ponder the Albatross)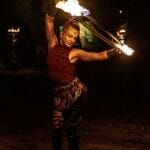 SolFire Entertainment
Sol Fire Entertainment and Dance of the Sacred Fire - Fire Dancers creating performance art entertainment throughout the Roaring Fork Valley for over a decade. Dancers Jenna Wirtz and Maciej Mrotek will be showcasing their fire dancing show at Strawberry Days this year. Dancing with fire uses various props like Poi, Hula Hoops, Dragon Staff, Fans, Rope Dart and more. Dancing with the element of fire is a performance that can excite and inspire all who get to experience it.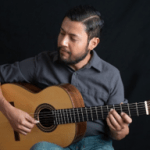 Rodrigo Arreguin
Guitarist and Professional Musician from Tijuana, Mexico. He started to play guitar at the age of 10 and studied Classical Guitar for over a decade. He´s being playing live music since 2005 and his repertoire goes through different styles of music such as rock, pop, jazz, country, flamenco, latino and many more. He's been playing in the Roaring Fork Valley for almost 5 years. His goal on every performance is to make people happy, comfortable and to give everyone a great experience with music.
12:30-2p       Los Mocochetes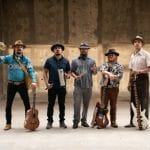 Los Mocochetes
Los Mocochetes is a Xicano/Funk band from the ancestral, occupied and unceded lands of the Tsis tsis'tas¹, Hinono'eiteen², Ka'igwu³, Weenuchiu⁴, Anasazi⁵, Newe⁶, Diné⁷, Ndee⁸, Inday⁸, and Dine'é⁸ (commonly referred to as Cheyenne¹, Arapahoe², Kiowa³, Ute⁴, Pueblo⁵, Shoshone⁶, Navajo⁷, Apache⁸) and other peoples now known as Denver, CO. With deep roots from the Mora Valley in northern Nuevo Mexico and to the south from Juarez, MX. By combining elements of cumbia, reggae, hip-hop, rock, funk, and more, Los Mocochetes composes music to unite the gente and create revolutionary music you can dance to. Los Mocochetes have devoted their lives to using their machetes for good. Every performance draws on the elements, the directions, the ancestors and the great mystery. Each song is a prayer meant to move your feet, stir your spirit, and to remind you of the incredible power you have to heal yourself and the 7 generations forward and back. Aho. Mitákuye Oyás'iŋ. Ōmeteōtl. Aṣẹ.
2:30-4p       Peach Street Revival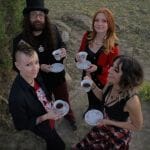 Peach Street Revival
Peach Street Revival is a 4-piece female-dominated rock band from Grand Junction, Colorado. Classic rock, blues, and punk inspire the band's original sound. The band members are Gonzales (vocals/harmonica), Sofia Benham (drums/vocals), Jordan Will (bass/piano/vocals), and Cooper Bradley Shull (guitar). The band gives a rockin' performance of their original songs and covers some of the greats; Led Zeppelin, Jimi Hendrix, The Rolling Stones, Jefferson Airplane, Janis Joplin, Creedence Clearwater Revival, Heart, Fleetwood Mac, Rush, Queen, and the like!