The Glenwood Springs Chamber Resort Association, the Glenwood Springs Post Independent and KMTS host the Issues and Answers Forum each fall and spring when there is an election.  This educational platform is the highlight of the election season for the entire community. It's democracy in action, providing an opportunity for voters to see the candidate in person, ask questions and listen. It reveals both similarities and differences among candidates.
2023 Fall Issues and Answers Forum
When: Monday, October 9 - 5:30-7:30 p.m.
Where: Glenwood Springs City Hall, 101 West 8th Street, Glenwood Springs
The public is invited and encouraged to attend. There will also be a virtual participation option. Access information will be posted prior to the event.
We'll hear from candidates for Roaring Fork School Board and Colorado Mountain College Board of Trustees.  Representatives both in favor of and against Proposition HH will also be in attendance.
Proposition HH
Cary Kennedy, Yes on Prop HH
Brita Horn, TABOR Coalition to Reject HH
Colorado Mountain College Board of Trustees Candidates
District 2:
David Use
Marianne Virgili
District 6:
Gloria Perez 
Roaring Fork School District Board of Education Candidates
District B:
Betsy After
Alan Kokish
District C:
Phillip Bogart
Lindsay DeFrates
District D:
Jasmin Ramirez
Learn more about Proposition HH at: https://www.sos.state.co.us/pubs/elections/Initiatives/ballot/contacts/2023.html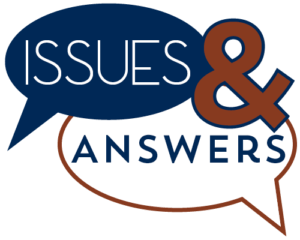 Issues and Answers Recording
The Issues and Answers recording is here – note that the video blanks out for a bit toward the end, but the audio works all the way through.
Passcode: 5kW1@g&W