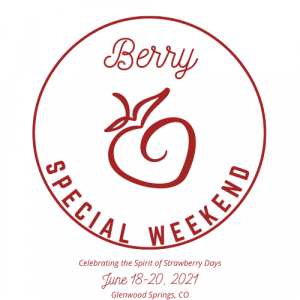 Join us in celebrating the spirit of Strawberry Days with a Berry Special Weekend! June 18-20, 2021! Presented By:
The Glenwood Springs Chamber Resort Association is collaborating with local businesses and organizations to bring a weekend of celebration and fun through a variety of micro events and promotions throughout the community.
The GSCRA will be hosting a "Reverse Parade" where businesses and community members will be invited to decorate their windows or yards so that we can cover the town with strawberries. There will be prizes! View the Berry Special Weekend Flyer Here
Let us know how your business or organization plans to participate, and we will get the word out for you as part of the overall weekend promotion.
Participating Businesses!
Art on 8th  – Strawberries and Participating in the Window/Outside Decorating
Cooper Corner Gallery – Strawberry Themed Items in Entry
Crystal Tuning - Painted Strawberry and Crystal Art Display in Front Window. Gold panning activity out front. Will have crystals in Colorado native dirt for sale.
Murphy Brown Boutique – Strawberry Themed Treats for Customers and Window Decorating
The Property Shop - Decorating Front Porch!
The Silver Bead and Yard Shop - Strawberry Themed Window Displays, Hand Crafted Strawberry Jewelry, and In-Store Treats!
Watkins Jewelers - Free Drawing for a Custom Piece of Jewelry and a Sidewalk Sale.
What's Happening!                  
Friday - June 18, 7:30 - 11 a.m.
Pie Day with Rotary! Glenwood Springs Noon Rotary continues Pie Day for Strawberry Weekend for the 58th year. Pick up your choice of delicious pies for a minimum suggested donation of $30/pie and support your local youth with scholarships. Pie Days is Friday, June 18, 7:30-11am, United Methodist Church, 824 Cooper Avenue, Glenwood Springs. Pay for your pie(s) by cash, Venmo, or credit card. For more information go to gsrotary.org
Beer Pairing Dinner in Partnership with Breckenridge Brewery at Hotel Colorado
Saturday - June 19, 12 - 2 p.m.
FREE Strawberries and Ice Cream served at Bethel Plaza. Brought to you by the City of Glenwood Springs and Kaleidoscoops. Served by Kiwanis
12 - 2 p.m.
Live Music under the Bridge with band Oran Mor brought to you by the City of Glenwood Springs
Open House at the Frontier Historical Museum with special Strawberry Days displays
2 - 10 p.m.
Hotel Colorado Dad's Day Courtyard Hangout beer tent and happy hour! 3 - 7p.m. live music with Rodrigo
For more information please visit glenwoodchamber.com/berryspecial or email Tara Harman at tara@glenwoodchamber.com.
Strawberry Days will be back and bigger than ever: June 17-19, 2022!